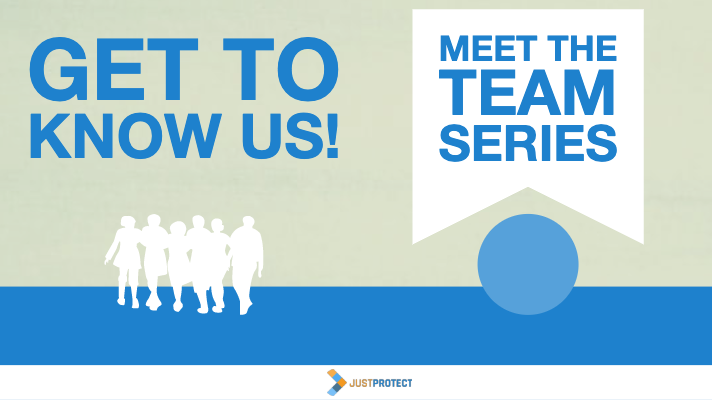 We are celebrating, Application Security and Compliance Analyst, Bryan Urias' one year anniversary with JustProtect!
Who is the real you?
What may seem like a serendipitous entry into cyber security and risk assessment is the reality for Bryan Urias and his journey with JustProtect. Bryan connected with Embarc Collective, who acted as a pipeline for local businesses and his university, Florida Poly. That's how he met Vikas Bhatia, JustProtect's Founder and CEO, one year ago.
"It was in the first interview when asked, "Who is the real Bryan?" that I knew this was not going to be like any other company."

Even before joining the JustProtect team, Bryan had a technical background in IT support, network, and a few technical certifications. His plan was to obtain a career at an IT firm after graduation using experience from a variety of internships working as IT support and as a Teaching Assistant for programming courses in school. He also held team leadership roles while working to develop an app with Microsoft and on an open-source nuclear detection project with the U.S. Air Force, preparing him for leading initiatives at JustProtect.
How did you get started at JustProtect?
Two weeks after starting an internship with JustProtect, COVID-19 hit. JustProtect was already operating remotely before COVID, allowing Bryan to be hired on full time while handling new responsibilities. Like so many others, in cybersecurity and across all industries, this transition came with unforeseen challenges as client companies' budgets froze overnight. Bryan discovered through these challenges the biggest opportunity for growth is the ability to fail well by learning from moments that don't go as planned.

"I was quick to get involved in leading projects like the SOC2 school, running marketing tools, and growing my professional network in security. These projects helped me in communicating ideas and building rapport with high level executives."
What are the biggest lessons learned?
One great lesson was learning the different styles of leadership and how productive communication often requires tailored responses. Mentorship from Vikas was critical for Bryan to understand the processes and concepts of work without feeling micromanaged. Vikas would push him to "Take the project as far as you can then come back for constructive feedback."

"Just because I've had a great time doesn't mean I haven't been challenged. There have been moments where I've felt like I was overwhelmed, but Vikas calls it a safety net. It's like dropping you in the deep end of the pool, letting you try to swim, and if you start to sink you can ask for help. But if you always use a safety net, you'll never learn."
What is the best part of the job?
Working at a smaller business has allowed Bryan to see tangible effects from his contributions that he may not have experienced in a large firm. His experiences have helped him to learn the nuances of project management and how to actively work with higher level employees.
"I love that this team has employees who engage and actively communicate with each other because the impacts are felt by everyone."
What would you pass on to others in your position?
His best advice to other young professionals starting out in IT, "Take every opportunity you can to try new things or new projects and do it in a constructive way to help others. Learn whatever you can and proactively contribute."