The connective tissue between cybersecurity and business.
JustProtect automates the collection and presentation of business-relevant cybersecurity data to non-technical stakeholders.
JustProtect introduces a level of clarity leading to increased confidence and better investment decisions.
JustProtect breaks down the barriers of an organization's current information security needs by simplifying the identification, assessment and reporting of risks.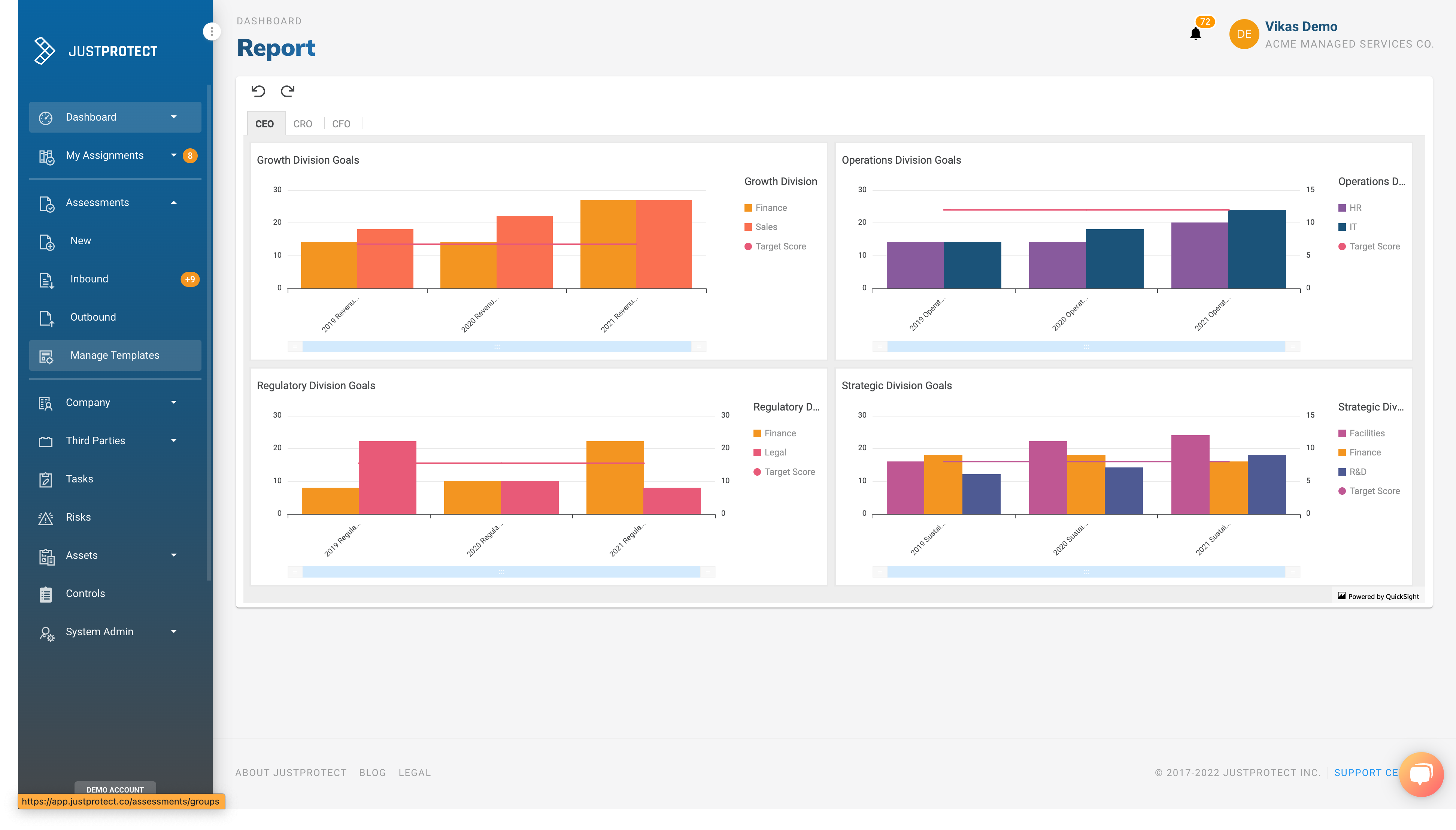 By automating the 'busy work' associated with managing end-to-end assessment process, we allow our customers to focus on
JustProtecting
the business.
TESTIMONIALS
What our customers are saying...
"Before JustProtect, we were disorganized, repeating the requests of evidence, and unable to keep on top of the 4 audits we managed a year -- and that was with a GRC system! With JustProtect, we're now able to stay on top of Infosec's activity and automate the reporting to the business stakeholders."
"Since the SEC released the proposed cybersecurity hygiene and incident disclosure rules, our Board, legal and compliance stakeholders are paying a lot more attention. With JustProtect, we were able to organize the entire reporting process while saving countless man days every quarter."
"We engaged with a well-known consulting firm to prepare for our IPO. They delivered a 127-page report for us to work through! In no time, all the observations, risks, projects and tasks were organized in a way the entire team could work asynchronously. I don't know what I would have done otherwise!"
Is JustProtect a GRC, a workflow solution or survey platform?
JustProtect is an enterprise Assessment Lifecycle Platform that facilitates the decision making process. The problem we solve is much broader than Governance, Risk or Compliance, Operations or Analytics making it the right system to solve this problem. JustProtect is a level down in the stack from today's solutions, traversing typical organizational silos.
What if we already have a GRC, workflow solution or survey platform?
It's not unusual for JustProtect customers to have one or multiple solutions. We co-exist with them all! We believe that businesses should have a single system that is the "connective tissue" between cybersecurity and all other departments that need to be involved in an enterprise decision-making process.
Who are the typical users of JustProtect?
Cybersecurity teams typically own the JustProtect platform, however we can bring together cybersecurity data and make it business-relevant for anyone - legal, finance, compliance or the Board - to meet complex regulatory requirements and ultimately make better decisions for the organization
What frameworks does JustProtect work with best?
We have future-proofed our Platform to support any framework, regulation or standard whether that was developed in-house or by organizations such as the SEC, ISO, AICPA, NIST, or CIS.
How does the JustProtect time-to-completion compare with other 3rd party risk assessment solutions?
Today, a 3rd party risk assessment takes ~6 weeks to complete, end-to-end. With JustProtect, our customers can facilitate the same Assessment in less than 72 hours with more than 50% added capacity to an existing team within weeks of onboarding. Our solution returns a positive ROI within weeks due to the speed and scale the assessments can be facilitated.
What are some of the challenges the JustProtect Platform addresses?
Assessments will need to be redesigned to accommodate business processes and workflows to address emerging cybersecurity regulations.

Inefficient assessment processes negatively impact revenue generation, compliance posture and investor confidence.

Legacy GRC solutions were designed for "vertical" silos thereby making them inflexible and requiring significant resources to implement and operate.

Spreadsheets and emails are used to overcome the incomplete business processes between GRC and enterprise applications resulting in multiple "records of truth".
Why do higher education organizations need to conduct risk assessments?
Higher education organizations - like any other organizations - need to conduct risk assessments to identify, assess, and prioritize risks that could potentially impact the organization. This can help the organization better understand the threats it faces and to put measures in place to mitigate or manage those risks.
Higher education organizations in particular may need to conduct risk assessments for the following reasons:
Regulatory Requirements: Higher education organizations may be subject to various laws and regulations that require them to conduct risk assessments and implement appropriate controls.

Reputational Risks: Higher education institutions rely on their reputation to attract students, faculty, and donors. Risks such as data breaches or financial mismanagement can damage an institution's reputation and negatively impact enrollment and funding.

Operational Risks: Higher education organizations have complex operations, with many different departments, programs, and activities. Conducting risk assessments can help identify potential issues that could disrupt operations and impact the organization's ability to function effectively.

Financial Risks: Higher education organizations often have large budgets and significant financial resources, and they can be exposed to financial risks such as fraud, financial mismanagement, or
investment losses.
Stay informed!

Subscribe for updates and the latest industry news from JustProtect!