The connective tissue between Cybersecurity and the Business.
JustProtect automates the collection and presentation of Business relevant Cybersecurity data to Non-Technical Stakeholders..
JustProtect introduces a level of clarity leading to increased confidence and better investment decisions.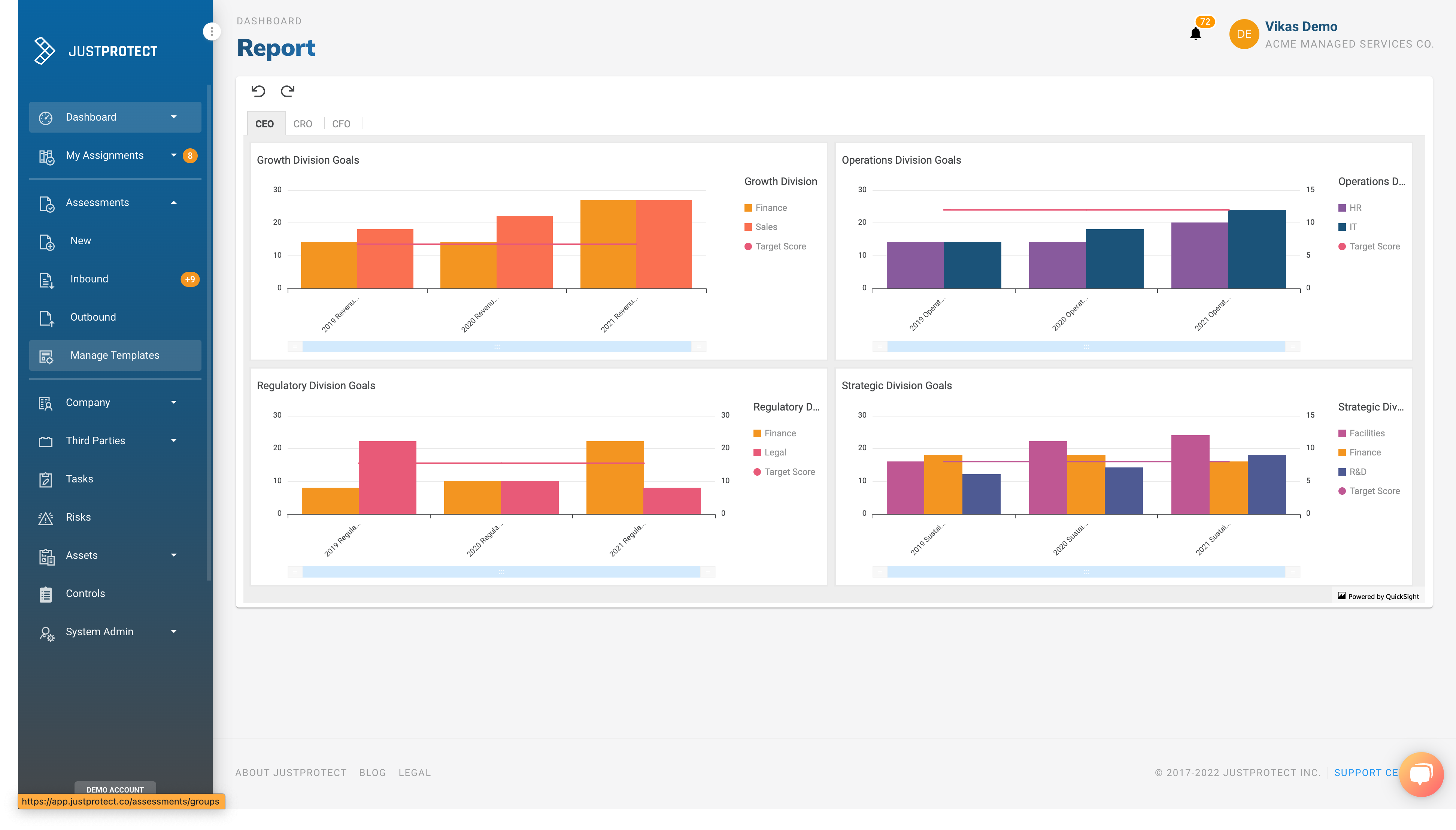 JustProtect brings together Cybersecurity data and makes it Business relevant so you can make better decisions. Automate the busy work so you can focus on protecting the Business.
TESTIMONIALS
What our customers say
"Before JustProtect we were disorganized, repeating the requests of evidence and unable to keep on top of the 4 audits we managed a year, and thats with xxxxx GRC system. With JustProtect we're able to stay on top of Infosec's activity and automate the reporting to Business stakeholders."
"Since the SEC released the proposed Cybersecurity Hygiene and incident disclosure rules our Board, Legal and Compliance stakeholders are paying a lot more attention. With JustProtect we organized the entire reporting process saving countless man days every quarter."
"To prepare for our IPO we engaged a well known consulting firm. They delivered a 127 page report for us to work through! In no time all the observations, risks, projects and tasks were organized in a way the entire team can work asynchronously. I don't what i would have done otherwise!"
Is JustProtect a GRC, an workflow solution or Survey Platform?
We consider JustProtect to be an enterprise assessment lifecycle platform that facilitates the decision making process because we think the problem we solve is much broader than Governance, Risk or Compliance, Operations or Analytics and the right system to solve this problem is a level down in the stack from today's solutions and traverse typical organizational Silos.
What if we already have a GRC, Workflow Solution or Survey Platform?
It's not unusual for our customers to have one, or multiple of these solutions. We co-exist with them all! Our premise is that businesses should have a single system that is the connective tissue between cybersecurity and all other departments that need to be involved in an enterprise decision making process.
Who is the typical user of JustProtect?
Cybersecurity teams typically own the platform although the experience is friendly enough for Non-Technical Executives, or teams that spend their time between email, word, excel and PowerPoint.
What frameworks do you work best with?
We have future-proofed our platform to support any framework, regulation or standard whether that was developed in-house or by organizations such as the SEC, ISO, AICPA, NIST, or CIS.
Stay informed!

Subscribe for updates and latest industry news from JustProtect!